Miart 2020
Fri 11 September 2020 - Sun 13 September 2020
Indietro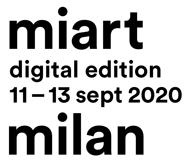 Visitors can access to the platform upon free registration from September 11th, 2020.
VIP and VIP PLUS users will have exclusive access to miart digital on 9 and 10 September.
The digital platform has been designed to explore a wide selection of works for sale, together with multi-media content related to exhibitions currently and recently organized by the participating galleries and their artists.
miart digital offers an innovative live chat function, which will allow you to interact in real time with the exhibitors and ask for more information about available works.
The digital platform will also highlight the events of Milano ArtWeek, the program coordinated by Milan City Council, which will take place from 7th to 13th September 2020 with the participation of leading Milanese public and private institutions.